Books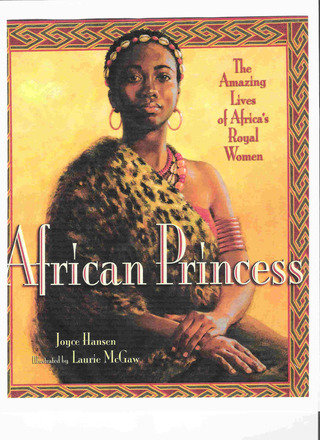 The six African princesses and queens described here represent the rich cultural heritage of this ancient land...Their dramatic stories contain lessons for our own lives. Each chapter opens with a splendid original illustration by award winning illustrator, Laurie McGraw.
View a wonderful video by fourteen-year-old Nia Imani, entitled "The Royal Story." Nia wrote and performed the song after reading African Princess. Nia's song and video is an uplifting tribute to Black women around the world and is an inspiration to all young girls and women. Nia Imani has been performing since she was six years old and starred in the Broadway musical, "The Lion King." Enjoy the work of this talented young lady.
Nia has also started a foundation to spread the message that every child is special--Every Child's A Star Foundation.
"...a story of courage and hope." -Booklist

This is the last book in a trilogy beginning with the novel,Which Way Freedom and continuing in Out From This Place. Set in South Carolina, both of these novels follow Obi and Easter as they free themselves from slavery during the Civil War and meet the challenges of living as freed people during the beginning of Reconstruction.
In The Heart Calls Home, Obi and Easter struggle to overcome many obstacles during the difficult period of Reconstruction after the Civil War.



"...this is an unusual and outstanding book of history and archaeology." -Children's Literature

Through archaeological findings in an almost forgotten 18th century, New York City African burial ground, a people whose history was almost lost in time, is rediscovered.